It was just yesterday when I found out what I would enjoy to do.
I attended this ACLE (alternative classroom learning experience) in UP Diliman and poof! There I was, yup! I found myself. It was my first time to actually decide (on my own, without any pressures, a.k.a. ACLE as a requirement) to attend a class.
At 12:30pm, I had the strongest urge to attend any class, as in, any at all. I planned to go to a belly dancing class, cosmetic class, HP7.2 screening, stock exchange, divorce bill forum, etc. there's just too many I can't list them all. But of course, you could only attend to one. (dang!) Then, I just stumbled upon UPD Engineering Society's ACLE class, Let me drESs you UP. I thought it would be nice to go because first, Melchor hall is just a few buildings away (this is near, based on UPD standards. I'm in Econ.) and it's FASHION! When I have finally decided, it was already 1:30pm. I'm late! late! LATE!
I was pleasantly surprised to find out that they haven't started yet (yey!). They had some (more than, maybe) technical problems but they have raffles every time! They have like 30+ pairs of earrings to give away. I kinda didn't know what to expect in this ACLE (since, it was my first time). there have been some delays but once it started, you just can't stop! (wink!)
So, it started off with Lexi!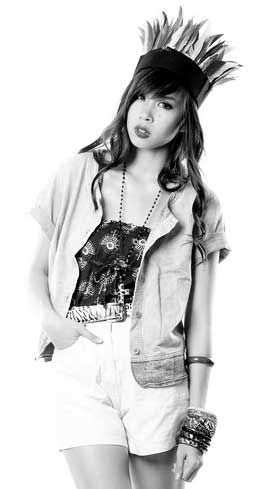 and you could say, I'm a novice in fashion. I swear! We were batchmates in Econ! If I had just known before, i could have been more friendly. Kidding! Shy-type kaya ako! (haha!). I thought she was you-know, uhm, not so kind. But, of course, she's so sweet and all that.
Then, Nikki!
She's really a talented and incredible petite artist. She did so generously raffle some items from +Ruckus. Lovely! For girls and boys, take note! Ann was with her too!
Then, to the business partners and real-life couple, Seph and Shai.
They're just sooo cute. And I must say, they garnered the most questions, personal ones. (blush!)
Finally, these duo. Aisa and Melai!
AND!! they styled 3 of us. Yup! I WAS STYLED!!! It was such an honor to meet them, moreover, to be styled by them! They were so warm and friendly. They're really down-to-earth people. All of them.
And that actually inspired me to try a fashion, er, expression (I wouldn't call it business yet. Who knows?). They were really amazing people. You can't help but be absorbed by them. Awww... I love these people.
Hence, this blog was created and named Novice Inspiration! Novice because I'm new and I have to learn a lot. Inspiration because I will forever remember what these girls did to me in changing my perspective in Life.
A very first post-ish picture.
I miss my curly hair. Next time!